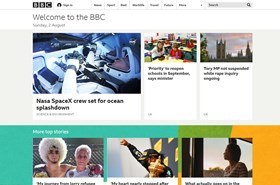 The British Broadcasting Corporation is a British public service broadcaster. Headquartered at Broadcasting House in Westminster, London, it is the world's oldest national broadcaster, and the largest broadcaster in the world by number of employees. It employs over 22,000 staff in total, more than 16,000 of whom are in public sector broadcasting. The total number of staff is 35,402 when part-time, flexible, and fixed-contract staff are included. More information...
Multilingual Wikipedia
In June 2020 the website bbc.co.uk was on the 4th place in the ranking of the most reliable and popular sources in multilingual Wikipedia from readers' point of view (PR-score). If we consider only frequency of appearance of this source in references of Wikipedia articles (F-score), this website was on the 8th place in June 2020. From Wikipedians' point of view, "bbc.co.uk" is the 3rd most reliable source in different language versions of Wikipedia (AR-score).
The website is placed before youtube.com and after nytimes.com in multilingual PR ranking of the most reliable sources in Wikipedia.
3,226,294,068
-445,399,604
466,388,397
+1,696,722
1,152,555
+8,759
English Wikipedia (en)
2,518,212,432
-267,173,419
316,275,602
+1,015,737
574,645
+3,421
Spanish Wikipedia (es)
123,949,035
-31,986,016
14,142,454
+69,178
36,724
+291
Russian Wikipedia (ru)
PR-score:
15
th
place
101,996,717
-33,393,937
10,613,330
+54,919
39,259
+345
German Wikipedia (de)
PR-score:
21
st
place
61,030,542
-3,491,895
AR-score:
13
th
place
12,531,991
+34,260
F-score:
14
th
place
20,669
+166
Chinese Wikipedia (zh)
PR-score:
28
th
place
57,667,870
-2,441,373
7,742,526
+12,182
37,708
+192
French Wikipedia (fr)
PR-score:
33
rd
place
45,689,497
-12,348,722
AR-score:
23
rd
place
10,728,514
+40,480
F-score:
21
st
place
30,733
+301