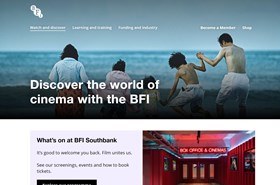 The British Film Institute is a film and television charitable organisation which promotes and preserves filmmaking and television in the United Kingdom. The BFI uses lottery funds to encourage film production, distribution, and education. It is sponsored by the Department for Digital, Culture, Media and Sport. More information...
Multilingual Wikipedia
In June 2020 the website bfi.org.uk was on the 168th place in the ranking of the most reliable and popular sources in multilingual Wikipedia from readers' point of view (PR-score). If we consider only frequency of appearance of this source in references of Wikipedia articles (F-score), this website was on the 375th place in June 2020. From Wikipedians' point of view, "bfi.org.uk" is the 235th most reliable source in different language versions of Wikipedia (AR-score).
The website is placed before usgs.gov and after ft.com in multilingual PR ranking of the most reliable sources in Wikipedia.
PR-score:
168
th
place
181,657,433
-1,967,021
AR-score:
235
th
place
17,399,875
+250,501
F-score:
375
th
place
37,108
+692
English Wikipedia (en)
PR-score:
106
th
place
161,813,459
+2,510,534
AR-score:
105
th
place
14,386,082
+225,360
F-score:
170
th
place
22,639
+459
Russian Wikipedia (ru)
PR-score:
482
nd
place
4,382,412
-1,355,182
AR-score:
739
th
place
280,416
+1,067
F-score:
1,392
nd
place
556
+4
Spanish Wikipedia (es)
PR-score:
758
th
place
3,211,701
-613,512
AR-score:
1,158
th
place
256,823
+1,782
F-score:
1,014
th
place
734
+17
Italian Wikipedia (it)
PR-score:
382
nd
place
1,957,279
-1,165,867
AR-score:
484
th
place
364,177
+2,401
F-score:
1,226
th
place
355
+3
German Wikipedia (de)
PR-score:
1,131
st
place
1,724,099
-71,209
AR-score:
1,653
rd
place
190,956
+860
F-score:
1,443
rd
place
488
+2
Portuguese Wikipedia (pt)
PR-score:
613
th
place
1,245,503
-77,220
AR-score:
338
th
place
403,427
+3,468
F-score:
222
nd
place
2,198
+30
Indonesian Wikipedia (id)
PR-score:
690
th
place
155,316
-13,379
AR-score:
497
th
place
37,615
+612
F-score:
202
nd
place
726
+50
Romanian Wikipedia (ro)
PR-score:
339
th
place
154,808
-73,824
59,814
+100
F-score:
110
th
place
956
+14