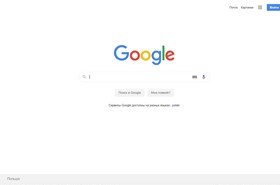 Google Search, also referred to as Google Web Search or simply Google, is a web search engine developed by Google. It is the most used search engine on the World Wide Web across all platforms, with 92.62% market share as of June 2019, handling more than 5.4 billion searches each day. More information...
Multilingual Wikipedia
In June 2020 the website google.co.uk was on the 70th place in the ranking of the most reliable and popular sources in multilingual Wikipedia from readers' point of view (PR-score). If we consider only frequency of appearance of this source in references of Wikipedia articles (F-score), this website was on the 101st place in June 2020. From Wikipedians' point of view, "google.co.uk" is the 81st most reliable source in different language versions of Wikipedia (AR-score).
The website is placed before chicagotribune.com and after bloomberg.com in multilingual PR ranking of the most reliable sources in Wikipedia.
PR-score:
70
th
place
352,496,759
-47,016,066
AR-score:
81
st
place
46,000,024
+669,695
F-score:
101
st
place
148,629
+2,205
English Wikipedia (en)
PR-score:
55
th
place
284,886,073
-29,794,940
34,883,537
+543,318
F-score:
30
th
place
87,907
+1,703
Spanish Wikipedia (es)
PR-score:
147
th
place
14,946,343
-4,147,588
AR-score:
236
th
place
1,348,884
+29,349
F-score:
138
th
place
5,635
+111
Russian Wikipedia (ru)
PR-score:
248
th
place
8,719,978
-2,266,886
AR-score:
250
th
place
779,288
+23,117
4,239
+74
French Wikipedia (fr)
PR-score:
273
rd
place
5,978,511
-1,679,434
AR-score:
284
th
place
1,170,784
+22,884
F-score:
164
th
place
5,882
+97
Chinese Wikipedia (zh)
PR-score:
275
th
place
5,123,409
-329,286
395,201
+6,658
2,289
+16
Italian Wikipedia (it)
PR-score:
161
st
place
4,716,164
-3,360,555
967,534
+9,898
4,019
+27
Arabic Wikipedia (ar)
PR-score:
55
th
place
3,752,882
-185,604
989,545
+306
F-score:
80
th
place
3,869
-2