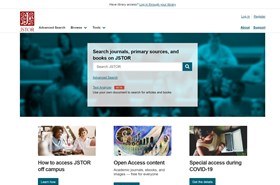 JSTOR is a digital library founded in 1995. Originally containing digitized back issues of academic journals, it now encompasses books and other primary sources as well as current issues of journals. It provides full-text searches of almost 2,000 journals. More information...
Multilingual Wikipedia
In June 2020 the website jstor.org was on the 122nd place in the ranking of the most reliable and popular sources in multilingual Wikipedia from readers' point of view (PR-score). If we consider only frequency of appearance of this source in references of Wikipedia articles (F-score), this website was on the 126th place in June 2020. From Wikipedians' point of view, "jstor.org" is the 138th most reliable source in different language versions of Wikipedia (AR-score).
The website is placed before wwe.com and after harvard.edu in multilingual PR ranking of the most reliable sources in Wikipedia.
PR-score:
122
nd
place
231,588,517
-36,936,704
AR-score:
138
th
place
27,873,419
+315,341
F-score:
126
th
place
110,766
+1,392
English Wikipedia (en)
PR-score:
171
st
place
109,411,211
-3,460,625
AR-score:
154
th
place
11,152,279
+165,681
F-score:
139
th
place
26,809
+412
Spanish Wikipedia (es)
PR-score:
52
nd
place
36,111,813
-11,911,883
AR-score:
83
rd
place
3,149,695
+30,465
19,420
+124
French Wikipedia (fr)
12,772,910
-3,648,628
AR-score:
143
rd
place
2,320,820
+16,153
9,601
+91
Russian Wikipedia (ru)
PR-score:
183
rd
place
11,364,092
-4,481,639
AR-score:
195
th
place
1,020,871
+13,208
F-score:
101
st
place
6,622
+53
Arabic Wikipedia (ar)
PR-score:
14
th
place
11,159,116
-99,607
AR-score:
49
th
place
1,563,464
+4,605
3,446
+33
German Wikipedia (de)
PR-score:
337
th
place
5,839,234
-912,369
AR-score:
275
th
place
1,165,389
+142
F-score:
210
th
place
2,994
+43
Italian Wikipedia (it)
PR-score:
151
st
place
5,156,907
-3,150,557
935,605
+8,196
F-score:
115
th
place
3,901
+91