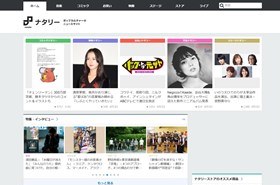 Natalie is a Japanese entertainment news website, that debuted on February 1, 2007. It is operated by Natasha, Inc. The website is named after the song of the same name by Julio Iglesias. Natalie has been providing news for such leading Japanese portals and social networks as Mobage Town, GREE, Livedoor, Excite, Mixi, and Yahoo! Japan. It has also been successful on Twitter, with 1,510,000 followers as of February 2017 being the third-most-followed Japanese media company, after Mainichi Shimbun and Asahi Shimbun. More information...
Multilingual Wikipedia
In June 2020 the website natalie.mu was on the 42nd place in the ranking of the most reliable and popular sources in multilingual Wikipedia from readers' point of view (PR-score). If we consider only frequency of appearance of this source in references of Wikipedia articles (F-score), this website was on the 152nd place in June 2020. From Wikipedians' point of view, "natalie.mu" is the 133rd most reliable source in different language versions of Wikipedia (AR-score).
The website is placed before news.google.com and after apple.com in multilingual PR ranking of the most reliable sources in Wikipedia.
PR-score:
42
nd
place
606,886,784
-81,862,394
29,300,230
+386,924
F-score:
152
nd
place
94,479
+1,667
Japanese Wikipedia (ja)
501,450,348
-72,649,947
24,677,016
+246,175
68,774
+1,155
Chinese Wikipedia (zh)
PR-score:
26
th
place
60,061,035
-5,033,482
1,826,439
+37,673
8,014
+92
English Wikipedia (en)
PR-score:
607
th
place
33,892,388
-2,968,158
AR-score:
1,146
th
place
1,871,871
+72,405
F-score:
531
st
place
8,830
+223
French Wikipedia (fr)
PR-score:
313
th
place
5,042,205
-774,586
AR-score:
1,214
th
place
241,479
+7,538
F-score:
349
th
place
2,652
+86
Spanish Wikipedia (es)
PR-score:
951
st
place
2,559,831
+55,242
AR-score:
3,031
st
place
87,759
+10,126
F-score:
1,160
th
place
627
+10
Korean Wikipedia (ko)
PR-score:
288
th
place
460,221
-64,015
AR-score:
163
rd
place
167,546
+2,176
F-score:
110
th
place
896
+9