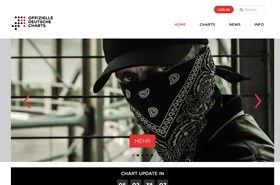 Offizielle Deutsche Charts is the website on which charts compiled by GfK Entertainment are published.
Multilingual Wikipedia
In June 2020 the website offiziellecharts.de was on the 199th place in the ranking of the most reliable and popular sources in multilingual Wikipedia from readers' point of view (PR-score). If we consider only frequency of appearance of this source in references of Wikipedia articles (F-score), this website was on the 389th place in June 2020. From Wikipedians' point of view, "offiziellecharts.de" is the 161st most reliable source in different language versions of Wikipedia (AR-score).
The website is placed before insee.fr and after uchicago.edu in multilingual PR ranking of the most reliable sources in Wikipedia.
160,308,652
-24,260,450
23,588,303
+241,385
36,055
+701
German Wikipedia (de)
122,121,844
-17,455,375
AR-score:
6
th
place
19,365,188
+123,883
19,086
+309
English Wikipedia (en)
PR-score:
588
th
place
34,859,345
-5,979,704
AR-score:
606
th
place
3,528,426
+99,897
F-score:
640
th
place
7,391
+168
Spanish Wikipedia (es)
PR-score:
3,776
th
place
593,776
-138,145
AR-score:
2,983
rd
place
89,144
+2,014
792
+9
French Wikipedia (fr)
PR-score:
2,618
th
place
502,440
-110,928
AR-score:
2,767
th
place
96,865
+1,843
F-score:
1,623
rd
place
532
+12
Italian Wikipedia (it)
PR-score:
1,467
th
place
485,038
-140,692
AR-score:
1,184
th
place
145,744
+2,694
F-score:
324
th
place
1,325
+36
Portuguese Wikipedia (pt)
PR-score:
2,256
th
place
321,438
-61,797
AR-score:
1,239
th
place
92,926
+3,896
F-score:
506
th
place
982
+51
Vietnamese Wikipedia (vi)
PR-score:
1,958
th
place
64,621
-15,029
45,545
+110
F-score:
151
st
place
1,268
-1