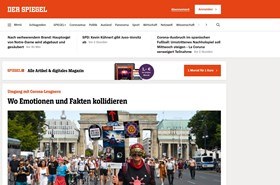 Der Spiegel is a German weekly news magazine published in Hamburg. With a weekly circulation of 840,000 copies, it is the largest such publication in Europe. More information...
Multilingual Wikipedia
In June 2020 the website spiegel.de was on the 47th place in the ranking of the most reliable and popular sources in multilingual Wikipedia from readers' point of view (PR-score). If we consider only frequency of appearance of this source in references of Wikipedia articles (F-score), this website was on the 125th place in June 2020. From Wikipedians' point of view, "spiegel.de" is the 51st most reliable source in different language versions of Wikipedia (AR-score).
The website is placed before naver.com and after oricon.co.jp in multilingual PR ranking of the most reliable sources in Wikipedia.
PR-score:
47
th
place
531,226,421
-62,502,792
AR-score:
51
st
place
63,841,065
-427,614
F-score:
125
th
place
111,656
+154
German Wikipedia (de)
428,343,430
-38,617,065
49,929,049
-496,239
70,751
-186
English Wikipedia (en)
PR-score:
290
th
place
68,866,180
-12,841,438
AR-score:
275
th
place
6,914,186
+35,782
14,777
+91
Russian Wikipedia (ru)
PR-score:
333
rd
place
6,364,321
-2,542,529
606,999
+3,509
F-score:
355
th
place
2,085
+18
Spanish Wikipedia (es)
PR-score:
457
th
place
5,114,839
-859,297
AR-score:
584
th
place
532,218
+8,026
1,768
+16
French Wikipedia (fr)
PR-score:
471
st
place
3,420,414
-1,033,828
779,346
+2,497
F-score:
401
st
place
2,278
+3
Dutch Wikipedia (nl)
PR-score:
113
th
place
2,456,027
-884,626
AR-score:
135
th
place
551,246
-10,880
F-score:
117
th
place
1,064
+3