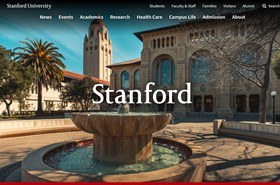 Stanford University, officially Leland Stanford Junior University, is a private research university in Stanford, California. Stanford is ranked among the top five universities in the world in major education publications. More information...
Multilingual Wikipedia
In June 2020 the website stanford.edu was on the 98th place in the ranking of the most reliable and popular sources in multilingual Wikipedia from readers' point of view (PR-score). If we consider only frequency of appearance of this source in references of Wikipedia articles (F-score), this website was on the 213th place in June 2020. From Wikipedians' point of view, "stanford.edu" is the 166th most reliable source in different language versions of Wikipedia (AR-score).
The website is placed before avclub.com and after researchgate.net in multilingual PR ranking of the most reliable sources in Wikipedia.
PR-score:
98
th
place
265,236,523
-45,474,247
22,923,612
+164,532
F-score:
213
th
place
58,481
+617
English Wikipedia (en)
PR-score:
98
th
place
168,074,042
-20,512,737
13,150,736
+102,538
F-score:
151
st
place
24,984
+225
Spanish Wikipedia (es)
PR-score:
79
th
place
27,531,733
-8,391,298
AR-score:
253
rd
place
1,259,209
+8,666
F-score:
298
th
place
2,295
+46
Russian Wikipedia (ru)
PR-score:
232
nd
place
9,135,798
-2,675,914
578,170
+858
F-score:
331
st
place
2,211
+14
Portuguese Wikipedia (pt)
PR-score:
99
th
place
8,211,679
-656,302
AR-score:
228
th
place
571,924
+6,183
F-score:
308
th
place
1,555
+49
German Wikipedia (de)
PR-score:
250
th
place
7,865,545
-697,960
AR-score:
337
th
place
963,163
+3,862
F-score:
358
th
place
1,854
+14
French Wikipedia (fr)
PR-score:
243
rd
place
6,832,008
-1,809,310
AR-score:
362
nd
place
868,132
-1,783
F-score:
352
nd
place
2,596
+21
Arabic Wikipedia (ar)
PR-score:
123
rd
place
1,807,910
-68,805
340,790
+3,775
1,901
+15