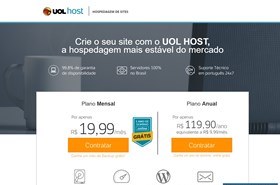 Universo Online is a Brazilian web content, products and services firm. It belongs to Grupo Folha enterprise. As of January 2015, UOL's website is ranked 73 on SimilarWeb and ranked 108 on Alexa Internet globally. More information...
Multilingual Wikipedia
In June 2020 the website uol.com.br was on the 52nd place in the ranking of the most reliable and popular sources in multilingual Wikipedia from readers' point of view (PR-score). If we consider only frequency of appearance of this source in references of Wikipedia articles (F-score), this website was on the 96th place in June 2020. From Wikipedians' point of view, "uol.com.br" is the 39th most reliable source in different language versions of Wikipedia (AR-score).
The website is placed before globo.com and after wsj.com in multilingual PR ranking of the most reliable sources in Wikipedia.
PR-score:
52
nd
place
454,873,641
-43,590,482
73,262,979
+559,201
F-score:
96
th
place
156,623
+1,800
Portuguese Wikipedia (pt)
394,138,593
-33,062,091
61,237,486
+440,312
121,316
+1,344
English Wikipedia (en)
PR-score:
516
th
place
41,503,116
-5,727,529
AR-score:
282
nd
place
6,787,037
+76,678
16,117
+168
Spanish Wikipedia (es)
PR-score:
220
th
place
10,122,870
-2,470,850
AR-score:
215
th
place
1,441,645
+11,067
4,675
+66
French Wikipedia (fr)
PR-score:
837
th
place
1,790,537
-202,256
AR-score:
667
th
place
461,518
+8,500
F-score:
613
th
place
1,472
+43
Russian Wikipedia (ru)
PR-score:
1,301
st
place
1,632,145
-504,829
AR-score:
673
rd
place
305,396
+659
F-score:
562
nd
place
1,331
+7
Italian Wikipedia (it)
PR-score:
506
th
place
1,464,271
-749,842
523,231
+5,040
F-score:
296
th
place
1,420
+19
Ido Wikipedia (io)
349,065
-80,242
526,361
+543
939
+1