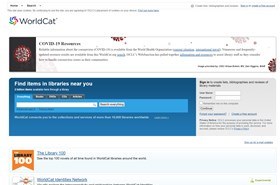 WorldCat is a union catalog that itemizes the collections of 17,900 libraries in 123 countries and territories that participate in the OCLC global cooperative. It is operated by OCLC, Inc. The subscribing member libraries collectively maintain WorldCat's database, the world's largest bibliographic database. OCLC makes WorldCat itself available free to libraries, but the catalog is the foundation for other subscription OCLC services. WorldCat is used by the general public and by librarians for cataloging and research. More information...
Multilingual Wikipedia
In June 2020 the website worldcat.org was on the 68th place in the ranking of the most reliable and popular sources in multilingual Wikipedia from readers' point of view (PR-score). If we consider only frequency of appearance of this source in references of Wikipedia articles (F-score), this website was on the 83rd place in June 2020. From Wikipedians' point of view, "worldcat.org" is the 79th most reliable source in different language versions of Wikipedia (AR-score).
The website is placed before bloomberg.com and after lemonde.fr in multilingual PR ranking of the most reliable sources in Wikipedia.
PR-score:
68
th
place
362,409,394
-60,281,288
AR-score:
79
th
place
46,688,909
+2,511,235
F-score:
83
rd
place
169,394
+8,730
Spanish Wikipedia (es)
PR-score:
15
th
place
95,867,953
-25,621,795
AR-score:
35
th
place
6,647,687
+257,159
16,750
+608
English Wikipedia (en)
PR-score:
276
th
place
74,379,712
+13,965,043
AR-score:
184
th
place
9,668,393
+1,206,180
F-score:
112
th
place
31,323
+2,899
French Wikipedia (fr)
55,910,842
-13,799,633
AR-score:
27
th
place
8,650,567
+185,484
F-score:
25
th
place
25,524
+1,122
Portuguese Wikipedia (pt)
PR-score:
28
th
place
24,311,103
-1,113,090
AR-score:
73
rd
place
1,891,301
+102,163
F-score:
50
th
place
7,668
+429
Italian Wikipedia (it)
PR-score:
35
th
place
21,374,238
-12,603,301
AR-score:
60
th
place
2,873,338
+73,808
8,101
+180
Catalan Wikipedia (ca)
PR-score:
13
th
place
3,105,942
-2,473,741
2,676,873
+161,362
F-score:
16
th
place
10,501
+722