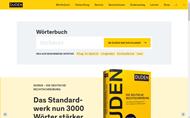 The Duden is a dictionary of the German language, first published by Konrad Duden in 1880. The Duden is updated regularly with new editions appearing every four or five years. As of 2017, it is in its 27th edition. It is printed as twelve volumes, with each volume covering different aspects of the German language such as loanwords, etymology, pronunciation, synonyms, etc. More information...
Multilingual Wikipedia
In June 2020 the website duden.de was on the 433rd place in the ranking of the most reliable and popular sources in multilingual Wikipedia from readers' point of view (PR-score). If we consider only frequency of appearance of this source in references of Wikipedia articles (F-score), this website was on the 3,002nd place in June 2020. From Wikipedians' point of view, "duden.de" is the 542nd most reliable source in different language versions of Wikipedia (AR-score).
The website is placed before netflix.com and after crunchyroll.com in multilingual PR ranking of the most reliable sources in Wikipedia.
PR-score:
433
rd
place
85,080,047
-11,631,069
AR-score:
542
nd
place

8,626,394
+57,655
F-score:
3,002
nd
place
4,730
+41
German Wikipedia (de)
PR-score:
17
th
place
79,048,684
-10,903,820
8,070,602
+38,471
3,959
+30
English Wikipedia (en)
PR-score:
4,362
nd
place
3,780,705
-104,789
AR-score:
5,986
th
place
304,991
+14,357
F-score:
18,709
th
place
183
+8
Chinese Wikipedia (zh)
PR-score:
2,424
th
place
415,602
-10,375
AR-score:
12,440
th
place
5,024
+87
F-score:
16,593
rd
place
14
0
Russian Wikipedia (ru)
PR-score:
7,002
nd
place
274,651
-250,053
AR-score:
8,218
th
place
22,334
+255
F-score:
15,446
th
place
36
0
Spanish Wikipedia (es)
PR-score:
9,244
th
place
213,247
-41,508
AR-score:
18,634
th
place
10,640
0
F-score:
23,725
th
place
17
0
Italian Wikipedia (it)
PR-score:
3,449
th
place
198,132
-70,938
AR-score:
4,910
th
place
31,826
+5,863
F-score:
11,477
th
place
28
0
French Wikipedia (fr)
PR-score:
8,898
th
place
126,829
-23,282
AR-score:
10,856
th
place
19,358
+84
F-score:
24,383
rd
place
21
0
Slovak Wikipedia (sk)
PR-score:
434
th
place
74,835
-7,515
AR-score:
561
st
place

11,556
0
F-score:
494
th
place
60
0