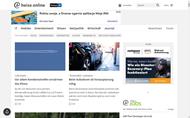 Heinz Heise is a publishing house based in Hanover, Germany. Its focus is PC-oriented publications such as c't, iX and heise.de, as well as corresponding online services published by its UK-based subsidiary Heise Media UK Ltd. More information...
Multilingual Wikipedia
In June 2020 the website heise.de was on the 294th place in the ranking of the most reliable and popular sources in multilingual Wikipedia from readers' point of view (PR-score). If we consider only frequency of appearance of this source in references of Wikipedia articles (F-score), this website was on the 903rd place in June 2020. From Wikipedians' point of view, "heise.de" is the 355th most reliable source in different language versions of Wikipedia (AR-score).
The website is placed before bloody-disgusting.com and after gaonchart.co.kr in multilingual PR ranking of the most reliable sources in Wikipedia.
PR-score:
294
th
place
117,792,065
-9,110,589
AR-score:
355
th
place
12,585,159
+10,616
F-score:
903
rd
place

16,766
+92
German Wikipedia (de)
105,485,735
-7,638,528
11,453,641
+5,579
13,218
+56
English Wikipedia (en)
PR-score:
1,985
th
place

9,145,392
-883,546
AR-score:
3,140
th
place
623,537
+2,105
F-score:
3,256
th
place
1,398
+5
Russian Wikipedia (ru)
PR-score:
2,547
th
place
800,426
-104,786
AR-score:
3,055
th
place
65,716
+362
F-score:
3,864
th
place
186
+1
French Wikipedia (fr)
PR-score:
3,661
st
place
344,578
-41,783
AR-score:
4,110
th
place
60,629
+257
F-score:
4,079
th
place
183
0
Chinese Wikipedia (zh)
PR-score:
2,871
st
place
342,935
-5,632
AR-score:
5,535
th
place
12,666
+256
F-score:
3,282
nd
place
102
+7
Spanish Wikipedia (es)
PR-score:
6,955
th
place
297,720
-23,688
AR-score:
5,164
th
place
47,277
+128
F-score:
3,910
th
place
153
0