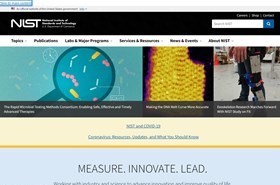 The National Institute of Standards and Technology is a physical sciences laboratory and a non-regulatory agency of the United States Department of Commerce. Its mission is to promote innovation and industrial competitiveness. NIST's activities are organized into laboratory programs that include nanoscale science and technology, engineering, information technology, neutron research, material measurement, and physical measurement. From 1901–1988, the agency was named the National Bureau of Standards. More information...
Multilingual Wikipedia
In June 2020 the website nist.gov was on the 177th place in the ranking of the most reliable and popular sources in multilingual Wikipedia from readers' point of view (PR-score). If we consider only frequency of appearance of this source in references of Wikipedia articles (F-score), this website was on the 1,026th place in June 2020. From Wikipedians' point of view, "nist.gov" is the 533rd most reliable source in different language versions of Wikipedia (AR-score).
The website is placed before ria.ru and after riaa.com in multilingual PR ranking of the most reliable sources in Wikipedia.
PR-score:
177
th
place
173,404,365
-38,540,023

8,769,413
+26,870
F-score:
1,026
th
place

14,909
+86
English Wikipedia (en)
PR-score:
252
nd
place
79,872,148
-14,382,902
AR-score:
596
th
place

3,574,278
+170
F-score:
1,195
th
place

4,050
+5
Spanish Wikipedia (es)
PR-score:
139
th
place
16,065,965
-5,420,604
AR-score:
562
nd
place

547,720
+5,741
F-score:
1,398
th
place

514
+6
German Wikipedia (de)
PR-score:
171
st
place
12,964,560
-1,332,539
AR-score:
560
th
place

590,763
-2,756
F-score:
1,097
th
place

629
+3
Russian Wikipedia (ru)
PR-score:
201
st
place
10,685,292
-4,077,288
408,593
+504
F-score:
1,065
th
place

725
-2
Japanese Wikipedia (ja)
PR-score:
278
th
place
8,205,879
+632,512
AR-score:
849
th
place

185,354
+2,843

695
+6
Chinese Wikipedia (zh)
PR-score:
215
th
place
6,350,790
-255,445
AR-score:
441
st
place
227,845
+1,376
F-score:
591
st
place

700
+18
French Wikipedia (fr)
PR-score:
347
th
place
4,588,157
-1,412,606
AR-score:
806
th
place

368,994
+938
F-score:
1,299
th
place

674
+4