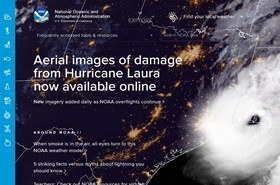 The National Oceanic and Atmospheric Administration is an American scientific agency within the United States Department of Commerce that focuses on the conditions of the oceans, major waterways, and the atmosphere. More information...
Multilingual Wikipedia
In June 2020 the website noaa.gov was on the 148th place in the ranking of the most reliable and popular sources in multilingual Wikipedia from readers' point of view (PR-score). If we consider only frequency of appearance of this source in references of Wikipedia articles (F-score), this website was on the 93rd place in June 2020. From Wikipedians' point of view, "noaa.gov" is the 120th most reliable source in different language versions of Wikipedia (AR-score).
The website is placed before theatlantic.com and after dailymail.co.uk in multilingual PR ranking of the most reliable sources in Wikipedia.
PR-score:
148
th
place
195,833,481
-28,229,127
32,580,409
+146,401
F-score:
93
rd
place
161,266
+1,801
English Wikipedia (en)
PR-score:
127
th
place
138,448,287
-13,882,831
19,322,322
+88,505
88,816
+1,090
Spanish Wikipedia (es)
PR-score:
156
th
place
13,620,244
-2,485,473
AR-score:
148
th
place
1,948,919
+7,475
F-score:
86
th
place
8,663
+295
Chinese Wikipedia (zh)
PR-score:
174
th
place
7,750,950
-267,706
1,028,278
+5,868
F-score:
20
th
place
19,174
+6
Japanese Wikipedia (ja)
PR-score:
428
th
place
4,848,529
-259,060
AR-score:
354
th
place
513,922
-985
F-score:
423
rd
place
1,460
+3
French Wikipedia (fr)
PR-score:
378
th
place
4,244,556
-804,782
AR-score:
289
th
place
1,139,789
+2,830
F-score:
151
st
place
6,366
+47
German Wikipedia (de)
PR-score:
482
nd
place
4,225,328
-1,315,675
AR-score:
259
th
place
1,212,454
+5,811
F-score:
101
st
place
5,169
-6
Portuguese Wikipedia (pt)
PR-score:
276
th
place
2,985,248
-342,174
AR-score:
243
rd
place
544,359
-1,658
F-score:
71
st
place
6,293
+131
Korean Wikipedia (ko)
PR-score:
67
th
place
1,880,484
-159,015
1,255,338
+12,067
F-score:
59
th
place
1,538
+38