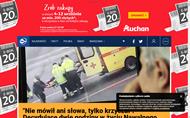 TVN24 is a Polish 24-hour commercial news channel, launched on 9 August 2001. Being a part of the TVN Network, TVN24 has been owned since July 2017 by US-based TV content provider Discovery. It gained broader popularity after the September 11, 2001 attacks in the US, which was the first major incident to be covered by TVN24. It is available over all digital platforms in Poland as well as in most cable networks and some networks in other countries, including USA and Germany. The audio portion of the channel can be streamed on the internet. More information...
Multilingual Wikipedia
In June 2020 the website tvn24.pl was on the 985th place in the ranking of the most reliable and popular sources in multilingual Wikipedia from readers' point of view (PR-score). If we consider only frequency of appearance of this source in references of Wikipedia articles (F-score), this website was on the 1,314th place in June 2020. From Wikipedians' point of view, "tvn24.pl" is the 1,468th most reliable source in different language versions of Wikipedia (AR-score).
The website is placed before kbs.co.kr and after enciklopedija.hr in multilingual PR ranking of the most reliable sources in Wikipedia.
PR-score:
985
th
place

37,799,979
-5,351,666
AR-score:
1,468
th
place

3,534,995
+22,629
F-score:
1,314
th
place

11,860
+98
Polish Wikipedia (pl)
PR-score:
14
th
place
30,681,188
-7,287,267
2,997,156
+11,236
F-score:
51
st
place
10,234
+48
English Wikipedia (en)
PR-score:
3,274
th
place
5,204,850
+1,687,554
AR-score:
6,967
th
place
255,613
+6,156
F-score:
6,913
th
place
600
+18
German Wikipedia (de)
PR-score:
2,377
th
place
764,271
+436,011
AR-score:
2,844
th
place
106,138
+1,919
F-score:
2,950
th
place
220
+5
Russian Wikipedia (ru)
PR-score:
3,923
rd
place
505,891
-127,851
AR-score:
5,586
th
place
34,575
+147
F-score:
6,471
st
place
103
+1
Spanish Wikipedia (es)
PR-score:
9,893
rd
place
197,734
+103,106
AR-score:
24,907
th
place
7,556
+595
F-score:
11,299
th
place
42
+2
French Wikipedia (fr)
PR-score:
10,430
th
place
105,598
-37,835
AR-score:
8,020
th
place
27,470
+156
F-score:
7,544
th
place
88
+3